Topic: Phantasm, Office - Deck 5
OOC: Some images of the office: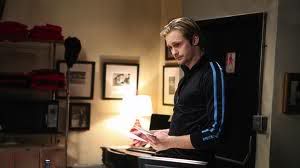 Alex in the office
Kris doing Alex's hair while he gives an associate a stern talking-to. The man at the back of the room incidentally is Chow, the accountant.
Continuing from posts 104/105 of Phantasm thread:
Michael Aker wrote:
IN THE OFFICE OF PHANTASM

(OOC: Did you mean Chow is in the room? Because if so then please disregard this. /OOC)

-Quentin Doulos-

Quentin looked around the office with obvious curiosity.
"Not bad at all, Alex. Quite a place you've got yourself here."
Quentin was quiet for a moment. There was nothing compromising outwardly about the room, no tell-tale ashes or shredded paper. He weighed his options, finally deciding to go for the indirect approach.
"I've been meaning to ask.There's something that's been bothering me for a while, nothing to do with our business at hand-" Liar, liar, dies afire. "-but you know how these things go. If I may be perfectly honest for a moment. I can't for my life understand how a smart man with your talents ends up on Greenleaf having to tend the bar at his own two-bit night club - no offense, but the Skyplex is hardly Londinium."
OOC: Nope, just us in here. I mentioned Chow only because he's in one of the photos.
Ash
"Personal preference," Alex replied, easily, moving behind the desk and indicating Doulos should sit. "I was born a spacer," he said. He didn't volunteer anything further, though, nor did he ask a question of his own. Letting Doulos speak was right now by far his best means of gathering intel and getting a feel for the man opposite him.
- Alex
Last edited by Ash Leighton Plom (2012-08-27 16:13:17)