Topic: The View From Planetside - Relative Sizes Calculated
The below diagram demonstrates how we view stellar and planetary bodies while positioned on another planetary body.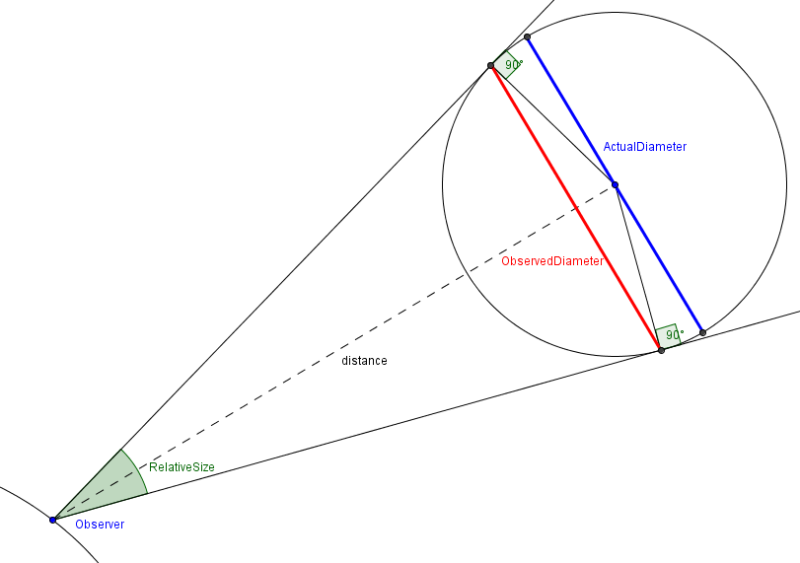 The thing to keep in mind though is that when we see the "size" of something, our eyes don't process length and width effectively because we would first need to have a measure of distance from ourselves to the object we are viewing. Instead, our vision processes everything in angular measures. This is why, for instance, during a Solar Eclipse we can see the Moon, which we know to be many times smaller than the Sun, appear to block the Sun from our view. Obviously the Moon didn't change sizes but its angular measure is close to the Sun's.
These angular measures are known as arcs.
So if we can agree that if I showed you a two cubes that measured 1 cm cubed and 1.001 cm cubed, you would argue that the two look similar in size if you saw them side by side. The same can be said of celestial bodies whose arc lengths are similar in size. Similarly, if one celestial body has a larger arc length than another celestial body, it will appear bigger to us and the other will appear smaller.
Returning to the diagram above, there are two parts of every arc length that determine its value. The distance from the observer to the celestial body's center, and the celestial body's radius. With these in hand, thanks to (the newly updated)The Verse in Numbers, I am calculating the relative sizes of the celestial bodies for our various sims and posting them in the OOC areas.
For now though, to whet your appetite, the average arc length of the Moon from an observer on Earth is 0.0091920195 radians. The average arc length of the Sun from an observer on Earth is 0.0092981618 radians. So to us, the sun is only slightly larger than the moon on average, approximately 1.155% bigger.
Also interestingly, knowing the arc length of celestial bodies tells us how much of the sky they occupy as well. Both the sun and the moon each occupy slightly less than 0.000688% of the sky (more accurately from an observer at sea level with no significant land features to effect the amount of visible sky).
I'll be updating sims as I get more work done on this front.
~Robert
Last edited by RLongtin (2012-05-02 17:24:06)